The cold weather has finally arrived and it's not just us humans that are feeling it. Tender plants such as Cannas, Dahlias and Begonias will not survive a severe frost, so it is time to bring them out of the cold.
There are several ways of managing plants which are not fully winter hardy, so it's worth a google to check out any plants that you are unsure of.
Tuberous plants like Dahlias can be stored in a frost-free shed. The aim is to protect the tuberous roots over the winter months, and then encourage them back into life in spring.
Prune your Dahlias down to about 15cm of stem, dig them out of the ground and shake off any damp soil around the roots.

Stand the Dahlias upside down in a bucket for a couple of days. This allows the sap to drain from the stems.

Place them in a tray, pot or crate and cover them in either sand, perlite or spent compost, which provides insulation. Place in a dark, frost-free shed.
Dahlia tubers dug up with pruned stems.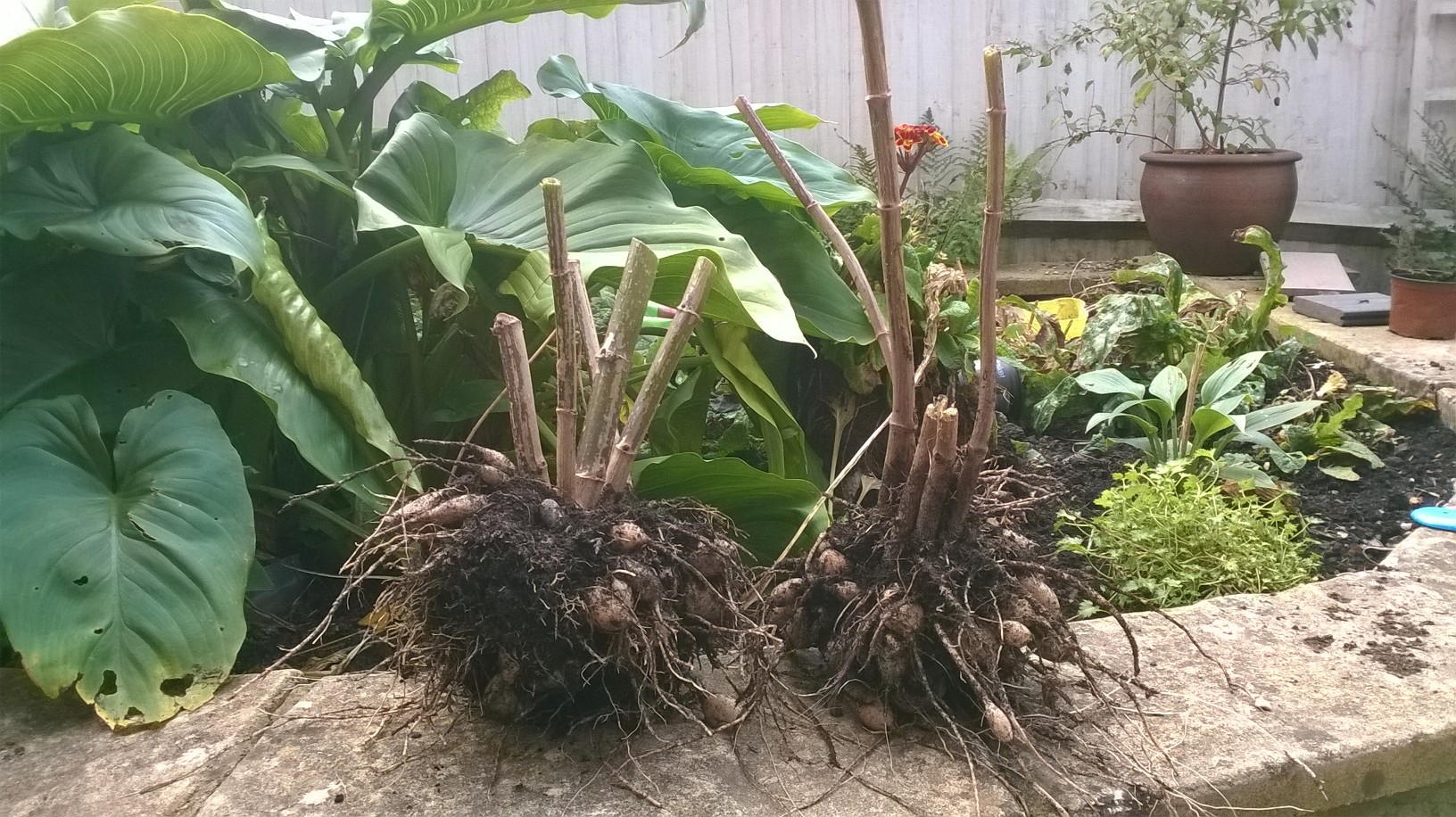 Tubers stored in perlite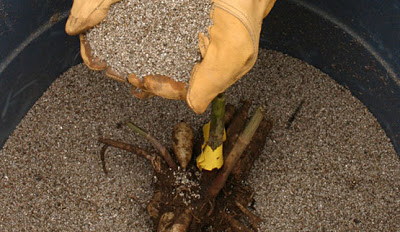 Cannas, unlike Dahlias can be left outside overwinter, though there is a risk that a severe cold spell could kill them. Mulch the area around the soil to 15cm deep, which should help insulate the roots from the cold.
Alternatively, dig up your Canna and cut the foliage down to the base. Pot them up in spent potting compost, coir or leaf mould and leave them somewhere cool and out of direct sunlight for the winter - under a bench in a frost-free greenhouse is ideal. If you don't have a greenhouse, you could try your luck in a coldframe.
Large plants such as tree ferns or banana plants may be too large to lift into a greenhouse, or like me, you may be lacking in the glass department. In this case, you need to provide protection in situ.
With tree ferns, place a handful of straw in the crown and fold the fronds in on themselves. Further protection can be given to container plants by wrapping the container with bubble wrap. For full on super baltic nights, you can also wrap a sheet of fleece around the plant.
A tree fern with straw placed in the crown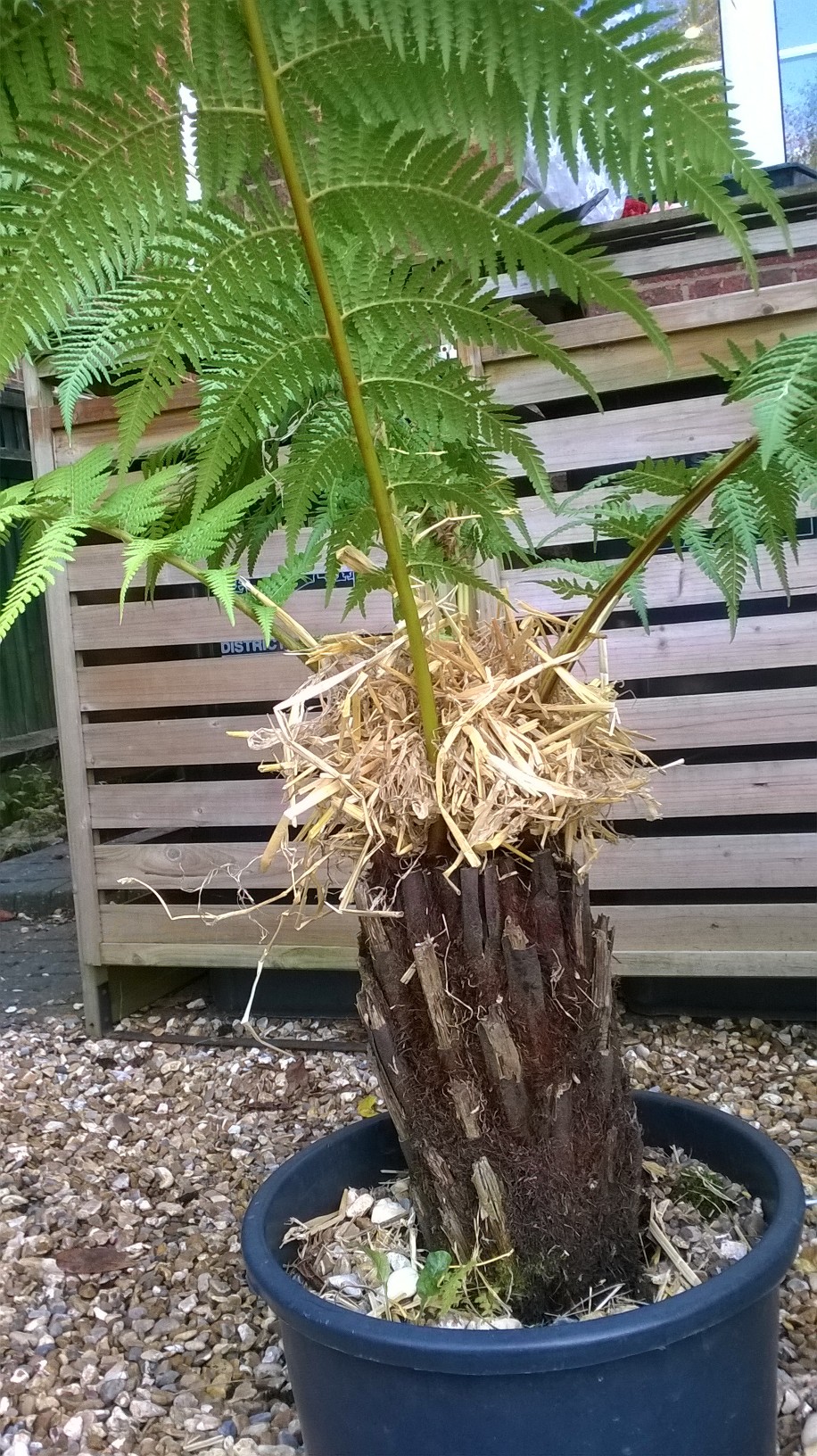 Wrapped in fleece for extra cold nights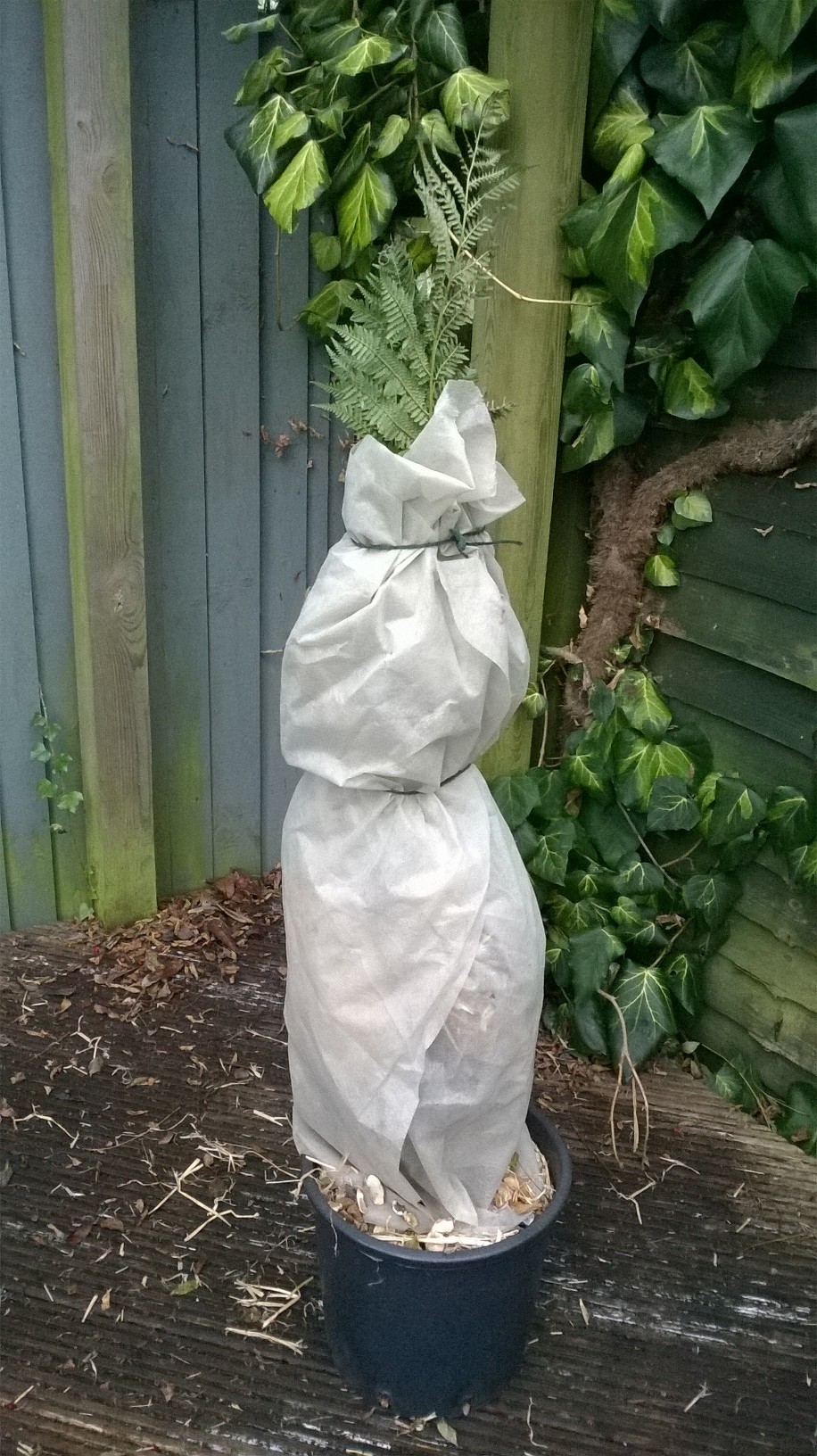 Finally, the Japanese banana plant (Musa basjoo) is relatively hardly compared with other bananas, but will still require winter protection.
With sharp secateurs, remove all the leaves to the top of each stem

Wrap the plant up with horticultural fleece, as modelled by the tree fern in the above picture

For extra cold areas, construct a cage made of chicken wire around the plant and fill it with straw.

Cover the top of the cage with a plastic sheet to help prevent the straw from getting damp.