Chocolate box houses covered in roses is quintessentially Lindfield, and something many people aspire to replicate in their own gardens. However, many people fail to achieve the look they had hoped for - the roses grow, but not how you want them to, and the flowers are sky high, leaving unattractive, bare prickly stems at eye level. There is a definite knack to success with climbers and it's important to start out in the right way.
Getting started
1. Don't confuse a a rambler with a climber.
Climbing roses and rambling roses perform in very different ways, so suit different situations.
- Climbing roses produce ridged straight stems, may flower repeatedly from June to October (variety dependant) and produce flowers on growth made in the current season.
- Rambling roses have very flexible stems, are extremely vigorous, and give one amazing show of flowers for about three weeks. Ramblers flower on growth made the previous season and will not flower again that season, once the main show is over.
Ramblers are large plants and quite hard to control. They are useful when you need to cover a structure, such as a garden shed, or if you have a large garden and the space to allow them to romp away into trees. They are spectacular in flower, but it's all gone within a 3-4-week window, making them a bit of a luxury for a small garden, where longer flower periods are desirable.
2. Match the size of the space you want to cover, with the eventual size that your rose will grow
When choosing a climbing rose (or any climber for that matter) you need to match the size of the space that you want to cover, with eventual size that the rose will grow. If you have a 2-meter obelisk, then a rose that will grow 5 metres is going to be far too big. There are specific roses bred that are suitable for structures such as pillars, arches and obelisks. Websites such as David Austin Roses, provide very useful guidance. http://www.davidaustinroses.co.uk/
3. Provide a structure for your rose to be secured to
To prevent your rose from flopping all over the place, you will need to tie the rose into a supporting structure.
For walls and fences, the best method is to construct a series of taut, horizontal wires, held in place by "vine eyes" The wires should be spaced about 35-40cm apart, with the lowest wire about 30cm from the ground.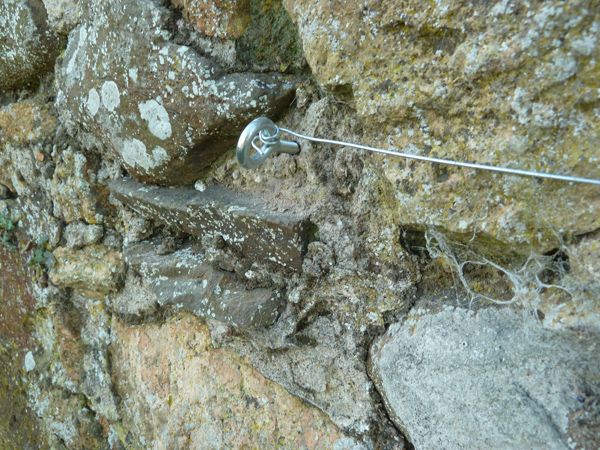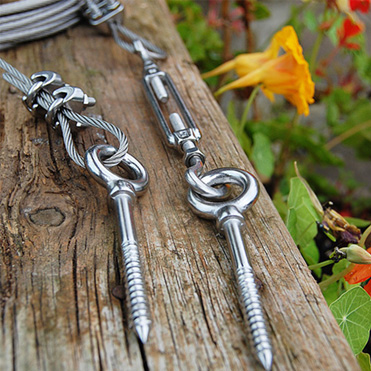 4. Plant your rose at least 45cm from the wall or fence
Roses like moisture, and areas near fences, walls get very dry. Plant the rose at least 45cm from a wall. Mulch well with compost and feed with rose food in spring.
5. Training your roses.
For the best displays, it is important to train your rose to grow in the desired direction. If you don't do this, the rose will grow vertically only, and flower only at the top of each stem.
a. To cover a wall
As new growth emerges, bend the stems horizontally and tie them to the wire system, using gardening twine. Tie a figure of eight, first around the stem, then to the wire. DO NOT GROW THE ROSE BEHIND THE WIRES – the wires rub the roses, causing damage to the stems, plus the rose looks restricted and unnatural.
Remove any stems growing in the wrong direction with secateurs.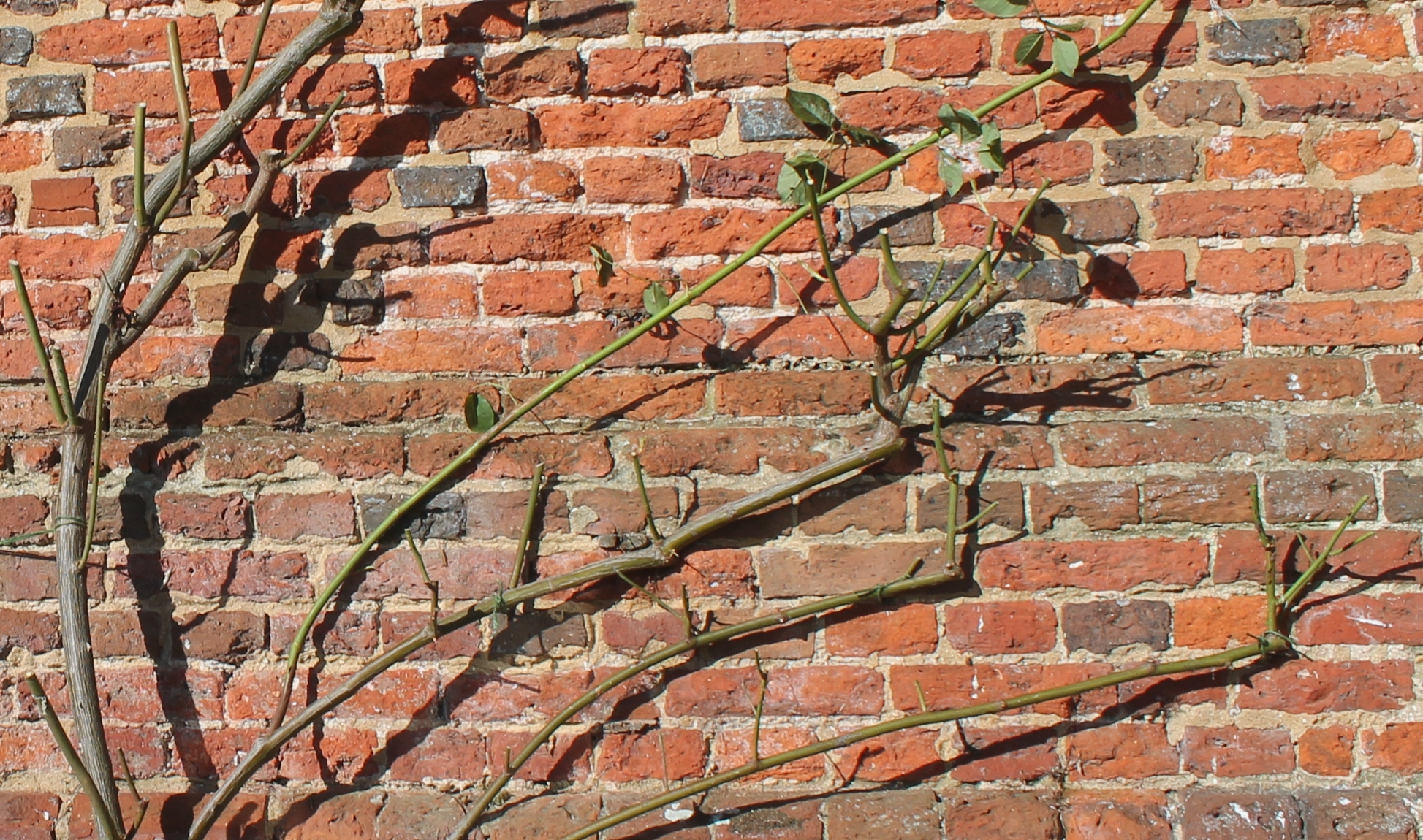 b. To cover an arch, obelisk or pagoda.
Spiral the stems around the legs of the structure, tying the rose in where necessary. Roses don't grow downwards, so an arch or pagoda will need a rose planted on both sides. As the rose reaches the appropriate height, it can then be trained across the structure.
6. Encourage flowering
Training is important, not only so the rose sits well within its situation, but also to prevent the flowers from clustering at the top of the bush. Bending or spiralling the stems re-distributes the hormone auxin which encourages new growth and flowers, lower down the rose. Dead-heading climbing roses, will also encourage the rose to continuously flower over the season.
7. How to buy a rose
There are literally thousands of roses to choose from, and garden centres only hold limited stock. Rose specialists, such as David Austin have really informative websites that can help you narrow your search, as well as providing a wealth of advice.
http://www.davidaustinroses.co.uk/