Shrubs which benefit from a hard prune - late winter/early spring
Spring is finally in sight and before we know it, we will be cutting the lawn again!
Happily, for those of us needing to reconnect with our garden, there are some pruning jobs that can be done over the next few weeks. Today's post will look at shrubs which benefit from a hard prune in late winter/early spring time
The benefits of hard pruning
The benefits of hard pruning certain deciduous shrubs toward the end of winter/early spring include;
- To control the size of the shrub
- To encourage vigorous growth and a better show of flowers
- To encourage young, decorative growth, for example, dogwoods and Eucalyptus.
The shrub itself will be perfectly happy if you don't prune it, but overtime, you will lose the decorative qualities that you originally planted the shrub for.
Which shrubs can I hard prune?
This technique is applied to deciduous shrubs which flower on the current seasons growth, where the flower is located at the end of the stem. Shrubs that fall into this category generally flower late in the season and include Buddleja, Caryopteris, hardy Fuchsias, Perovskia, and Spiraea japonica
The pruning needs to be done at the beginning of the growing season, so there is plenty of time for new growth to mature and flower in the same year.
Example 1. Buddleja
In late winter/early spring, cut back last year's stems to within one or two buds of the older woody framework and remove any dead growth or weak stems. Cut just above a bud. The end result will look fairly shocking, but new growth shoots away from about May/June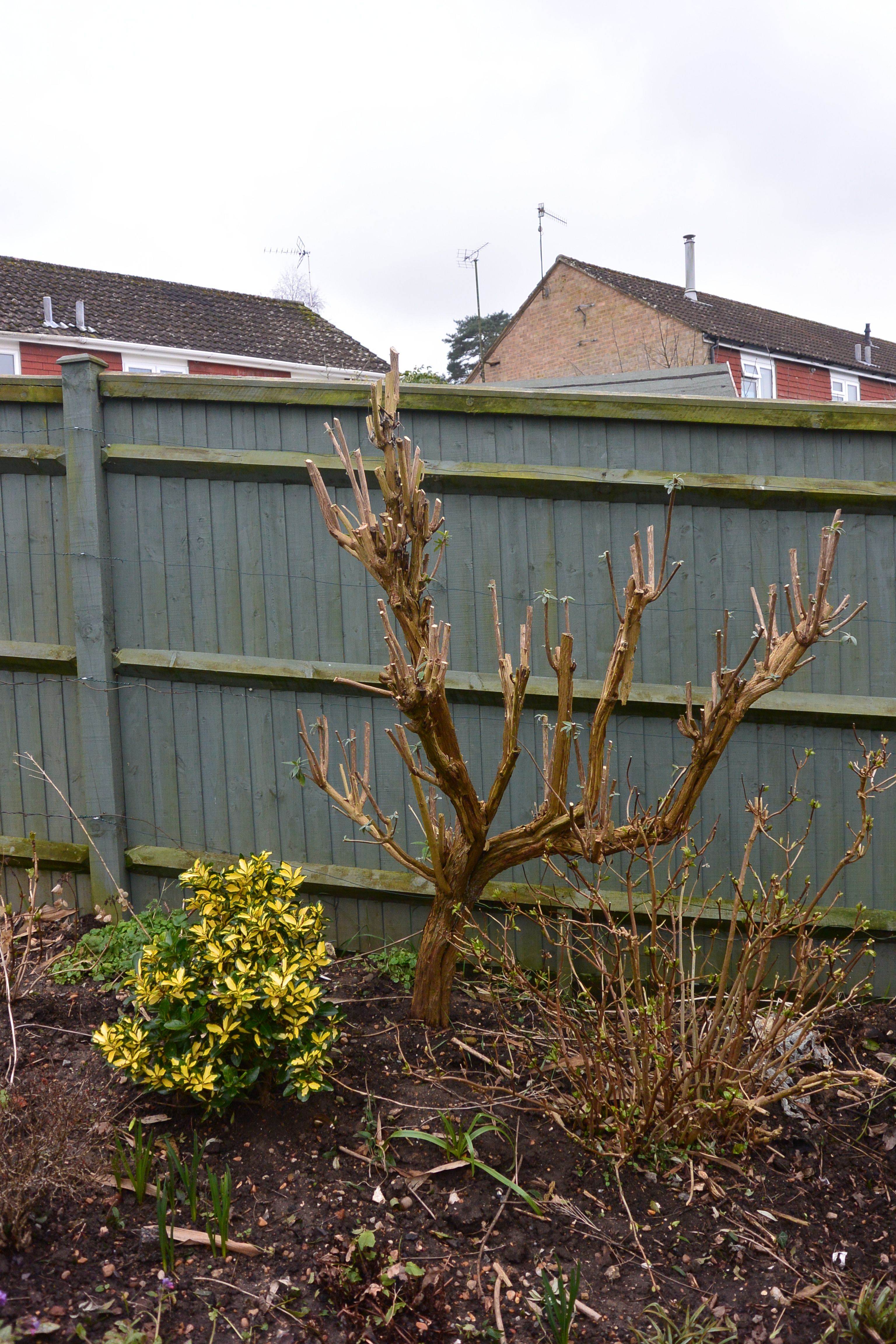 Example 2. Hardy fuchsia
There are two different approaches to pruning a fuschia and the one you chose depends on whether or not the plant has been damaged by frost.
1. Where there has been significant frost damage:
In early spring, once growth commences, remove the damaged top-growth by cutting old stems back to bare wood. Take care not to damage any emerging new shoots.
2. Where there has been little or no frost damage to the stems, then;
- Remove any dead growth,
- Thin out stems that have become congested by cutting to the base of the plant
- Cut back the remaining stems to a healthy bud lower down
Example 3 – Lavatera (tree mallow)
Lavateras need cutting back in spring to prevent a buildup of old heavy branches, which will eventually crack and split.
In spring, once the buds are beginning to break, cut out all weak growth, then hard prune the rest of the stems to within 30cm of the ground.