August and September are good months to prune your lavender, as any new growth will have time to harden off before winter. It is important to prune lavender correctly as this helps to maintain the shrub in a more compact shape. See previous post "Why does my Lavender look awful?" for more details on awful looking Lavender.

If you live in a colder part of the UK, it is better just to remove the spent flower heads, by snipping of the flower at the base of the stalk. Leave any further pruning of the shrub until spring time.
If you live in a warmer part of the country, then as you remove the spent flower heads, also remove some of the softer growth that has been made this year. Lavender does not readily re-grow from old wood, so remember, the most important rule is:
DO NOT CUT BACK INTO OLD WOOD!
Prune using secateurs, rather than sheers, as this produces a neater finish and allows for greater pruning accuracy.
1. The first diagram shows the correct pruning of Lavender.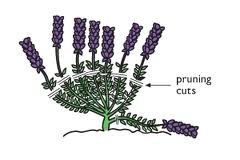 2. The second diagram shows someone about to make a big mistake by hard pruning the Lavender. DO NOT CUT INTO OLD WOOD!!!!! The picture does on the other hand, show nicely the demarcation between old wood and the newer growth, for those who may have been wondering.....