We take our summer holidays right at the point in the year where our gardens are at their best. When we return, more often than not, we are faced with an overgrown lawn, pots full of dead flowers and borders that require a machete to weed.
If we can find some space on the pre-holiday job list, there are a few actions we can employ to help keep our garden in good shape whilst we are away.
Lawn
Mow as short as you can, as close to your leaving date as possible
Borders
Dead head all your flowers, even the ones that don't need it. Your plants will react by producing more buds and flowers, which means you return to a garden in bloom.

Weed the borders.

Water any shrubs or trees that have been planted in the last 12 months. Water by drenching with a watering can, first thing in thing in the morning, or last thing at night.
The veg. plot
Pick any fruit and veg. that is ready: store if possible or give to friends

Weed between the rows of veg.

If you are going to water, then the whole plot should be drenched at a cool time of the day. A half hearted pithy spray with a hose will just evaporate and is a waste of time.

If you don't want to return to a giant marrow, taking over your veg patch, then remove the flowers from your courgettes
Plants in pots.
Keeping plants in pots alive during the holiday period is perhaps the toughest challenge of all. The only sure way is to either have neighbour water the pots for you, or to invest in an irrigation system.
Irrigation systems work by seeping water through a pipe system that is attached to an outside tap. It is possible to attach a timer to the system, which activates watering at designated times of the day. No doubt there is an Ap available, that will enable you to sort all this out from your sun lounger.
Failing access to the above methods, here are some actions that will also help retain moisture in your pots
Move all pots into the shade

Mulch the top of the pots with grit or small stones, to slow evaporation

Make a make-shift irrigation system

Completely drench each pot before you go
Three make-shift irrigation systems
Place pots in trays or tubs thus creating a reservoir for excess water to collect. Lining a tray with capillary matting is also very helpful as this acts as a sponge, releasing water when needed. BUT, if the weather is very wet whilst you are away, the trays and tubs will fill with rain water and this may drown your plants.


Attach a garden spike to a drinks bottle then sink it into your pots. If done correctly this can be very effective, although may only provide water for a few days (image below).



Create a wick system to draw water into your pots. (see link for details) More suitable for houseplants https://www.rhs.org.uk/advice/profile?pid=402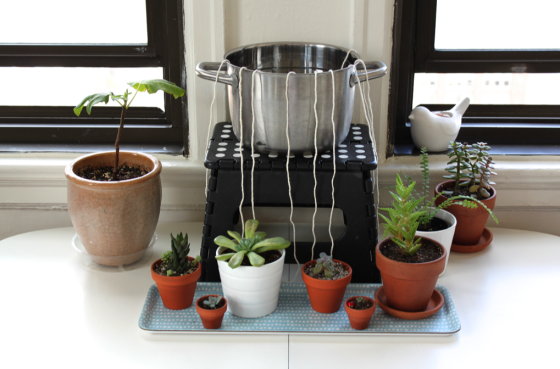 Though we love our gardens, plants can be replaced, whereas a good holiday is priceless. So, do what you can to keep thing ticking over whilst you are away, then forget it all and enjoy your holiday!